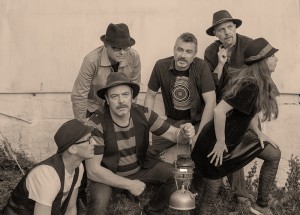 Mad Dog Mcrea blend a unique mixture of folk rock, pop, gypsy jazz, bluegrass and 'shake your ass' music. From self-penned songs of adventure, drinking, love and life, to traditional songs of gypsies, fairies, legless pirates and black flies – Mad Dog never fail to capture their audience with their infectious songs. In constant demand and having played just about every festival and two-bit, jibe-arsed dive in Christendom, Mad Dog Mcrea are, in every sense of the word, a live, band.
Matched with the unshakable dedication of their massive and "loyal-to-the-hilt", fan base – Mad Dog Mcrea are more than just a very popular, festival act – with five albums under their belts, they are serious and acclaimed recording artists too. During 2019 Mad Dog Mcrea will be in the studio recording a new album.The famous purple happy bus is fired up and ready for action, and there's room for you – jump aboard!
Supported by Skimmity Hitchers Rising from the cider soaked floors of Dorset's back street boozers, the Skimmity Hitchers now roam the full girth of the West Country and beyond. Bringing their dry and fruity blend of Scrumpy & Western music to venues, festivals and fairs, these scrumpy swillin' reprobates appeal to young and old, and everyone from folkies to cider punks, beardy badgers to shifty blaggers.
Doors 7.30pm, Limited Seating on a first come basis, Licensed Bar, get your party hats on and lets celebrate in style!
If you are a taxpayer you have the option to select giving a £1 donation on your ticket, every donation goes towards the maintenance and purchase of equipment for our much loved building.
If purchasing more than one ticket you can select tickets without donation and one with (the £1 donation fee will be added at the checkout).  Thank you so much!