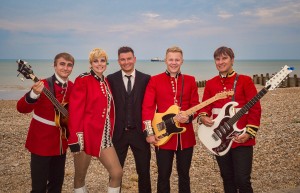 The Zoots are here to make your whole family bop to the '60s beats that everybody loves – with legendary numbers by The Beatles, The Stones, The Monkees, The Beach Boys, The Kinks, The Searchers, The Four Seasons, Elvis and dozens more of your favourite artists. Feel the groove that's thrilling audiences of stage and screen, in more than 30 countries! Discover why national critics call THE ZOOTS "impressive", "authentic", and "impossible not to like"!
This amazing 70s tribute show has it all! Join The Sounds Of The Seventies for their unforgettable live show, as they explore the monster sounds of T.Rex, Mud, Queen, Bowie, Abba, The Sweet, The Rolling Stones, Chic and other amazing Seventies legends!
Please note we do NOT add any extra charges for online purchasing so if you are a taxpayer you have the option to select giving a £1 donation on your ticket, every donation goes towards the maintenance and purchase of equipment for our much loved building, if purchasing more than one ticket you can select tickets without donation and one with. Thank you so much!