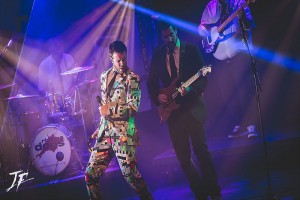 Now the 80s and 90s were responsible for some truly awful stuff. Neon. Shoulder pads. Mullets.  But despite the questionable fashion choices and horrendous hair you have to admit that were some great tunes and memorable movies.
 The band have all performed in some of the most popular and longest running bands in the area but wanted to do something different; to play the music that they loved in their teens, to tackle some more difficult stuff and to have a good time. Not the easy ones, not the obvious ones, but the ones that will make you go "oh, I remember this...." and will probably lead to gyrating of the trousers and possibly full blown 'dad dancing'.
​If you have seen them before then we know you are ready to see them again, if its your first time then you won't be dissappointed ...
Please note we as a charitable organisation  do NOT add any extra charges for online purchasing so if you are a taxpayer you have the option to select giving a £1 donation on your ticket, this will help us greatly after the lockdown period and our significant loss of income.  If purchasing more than one ticket you can select tickets without donation and one with. Thank you so much!
​Licensed Bar.