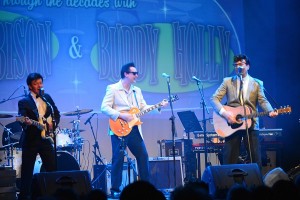 Born within a few months of each other, Roy Orbison and Buddy Holly grew up in the same part of Texas. They each recorded their early work in the Norman Petty Studios in Clovis, New Mexico, even at one point recording the same songs, 'An Empty Cup (And A Broken Date)' as well as 'You've Got Love', both of which were written by Orbison.  
Both artists brought a distinctive Texan influence to their music and yet, through their individual writing styles, their unique sounds were born.  
Roy Orbison went on to write more than 20 albums across 4 decades, with tracks including the well known 'Only the Lonely' and 'Crying' and, in 1987, he was inducted into the Rock & Roll Hall Of Fame.  
Buddy Holly, despite his tragically short life, more than proved his writing talents with a catalogue including 'Peggy Sue' and 'True Love Ways'. In 2010 he was awarded 13th place in Rolling Stone magazine's '100 Greatest Artists Of All Time'.  
Darren Page and Marc Robinson, with their individual careers dedicated to Orbison and Holly respectively, have performed all over Great Britain and around the world. Now they come together to bring you an uplifting two hour show that will entertain you with all the hits, but with a few older and more modern tracks thrown in too.Darren Page & Marc Robinson join forces to bring you a two hour uplifting Rock n Roll Show.
All the favourites from... I Drove all Night, Running Scared, In Dreams, Heartbeat, True Love Ways & Blue Days Black Nights to name but a few!
A Rock n Roll Show that will take you down memory lane from the 50's to the 80's Pure Nostalgia.
This will be a fully seated event with room for some dancing or course...Its set to be a superb evening ....
Please note we as a charitable organisation we do NOT add any extra charges for online purchasing so if you are a taxpayer you have the option to select giving a £1 donation on your ticket, every donation goes towards the maintenace and purchase of equipment for our much loved building, if purchasing more than one ticket you can select tickets without donation and one with. Thank you so much!