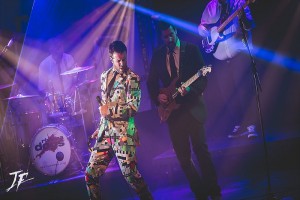 Now the 80s and 90s were responsible for some truly awful stuff. Neon. Shoulder pads. Mullets.  
But despite the questionable fashion choices and horrendous hair you have to admit that were some great tunes and memorable movies.  
Back to join us for another top notch party!  Riviera Dogs are a 5 piece band based in South West England delivering a polished set of quality music from the decades that taste forgot.  
They have all performed in some of the most popular and longest running bands in the area but wanted to do something different; to play the music that we loved in our teens, to tackle some more difficult stuff and to have a good time.  
Not the easy ones, not the obvious ones, but the ones that will make you go "oh, I remember this...." and will probably lead to gyrating of the trousers and possibly full blown 'dad dancing'.  
We pride ourselves on delivering a wide range of material which showcases our musicianship and whether you come to a public gig or hire us for your event we promise you an evening you won't forget...... and no Rick Astley.
​If you have seen them before then we know you are ready to see them again, if its your first time then you won't be dissappointed ...
Please note we as a charitable organisation we do NOT add any extra charges for online purchasing so if you are a taxpayer you have the option to select giving a £1 donation on your ticket, every donation goes towards the maintenace and purchase of equipment for our much loved building, if purchasing more than one ticket you can select tickets without donation and one with. Thank you so much!
​Limited seating, Licensed Bar.