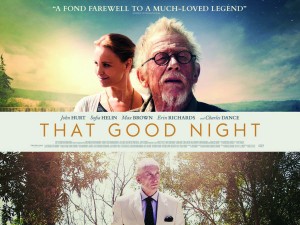 Ralph, a once famous writer is in his seventies and terminally ill. He has things to do before he dies: to be reconciled with his long-abandoned son, Michael, and secretly, to ensure he is not a burden to his devoted young wife, Anna, as he goes 'into that good night.' But Ralph ruins all hope of reconciliation when he picks a fight with Michael's girlfriend, Cassie. Later, alone, Ralph receives the sinister and mysterious "Visitor" whose services he has hired to provide a painless ending to his life. But the Visitor plays a devastating trick. Ralph 'wakes up' to face the damaged potential that life still holds for him and with his second chance he has a short window of opportunity to right some wrongs. Doors open 6.30pm for those wishing to bring their own food, for those simply wishing to watch the film its starts 7.30pm.   Runtime 90mins.
Your table will be allocated for you but if you have any special requirements please telephone the box office direct on 01297 625699.
We can easily accommodate wheelchair users however for your comfort and safetly we do need prior notice please.
Fri 8th June 2018 - 7:30pm
 (doors open 6.30pm)
Tickets £6.00