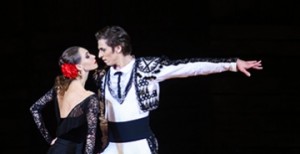 Carmen: Impetuous Carmen seduces Don José in order to convince him to let her out of jail. Once outside, she thinks she's finally free before realizing that she's in fact prisoner of a love triangle: she wants to be with the famous Torero Escamillo, but she can't make Don José go away.
Petrushka: At Saint-Petersburg's carnival, three puppets are playing the same role over and over: the unhappy lover Petrushka, the coquette and a Moor. Fed up with this endless part that never goes well for him, Petrushka attacks his rival and flees from the puppets theater.
Carmen is as passionate and free-spirited as ever as she finds herself caught in a love triangle. The passionate one act ballet by Cuban choreographer Alberto Alonso originally conceived for legendary Bolshoi prima ballerina Maya Plisetskaya will captivate audiences alongside Petrushka, a new creation for the Bolshoi by contemporary choreographer Edward Clug, in an evening encapsulating the soul of Russian Ballet. 
Please note we do NOT add any extra charges for online purchasing so if you are a taxpayer you have the option to select giving a £1 donation on your ticket, every donation goes towards the maintenace and purchase of equipment for our much loved building, if purchasing more than one ticket you can select tickets without donation and one with. Thank you so much!
Doors open 3.30pm  Performance 4.00pm
Running time 2hrs 20mins approx.
Licensed Bar & Refreshments