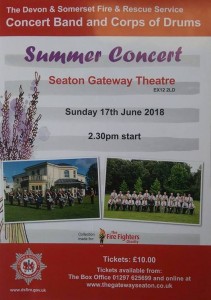 Summer Concert with The Devon & Somerset Fire & Rescue Service.  
Concert Band and Corps of Drums. In aid of The Fire Fighters Charity.
There will music for all tastes in our Summer Concert, ranging from Classics, film music, musicals and of course military.
This very fine concert band will be joined by the Corps of Drums for several pieces and of course their own dazzling and precise drum display.
Sunday 17th June - 2.30pm  (Doors open at 2pm)
Tickets: £10