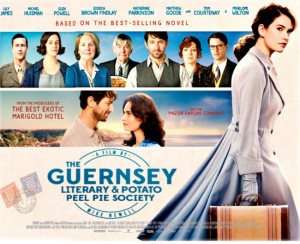 WWII has just ended and a young writer, eager for a story, meets a group of eccentric book lovers living in Guernsey, where she learns about the struggles they faced during the Nazi occupation.
A lost voice in the literary world of post-WWII England, Juliet Ashton (Lily James) is an ambitious young writer who is desperate to find something worthwhile to write about. And so, when she receives an unexpected letter from a mysterious fan, she decides to follow the lead.
On a whim, she travels all the way to Guernsey, full of hope that she'll find a story there. But she ends up finding so much more.
Juliet is introduced to a quirky group of misfit book lovers who make up The Guernsey Literary and Potato Peel Pie Society. Though they have very different backgrounds, they come together in a perfect balance of wit, charm, and undeniable character – a writer's dream.
However, as Juliet spends more time with the Society, she discovers it has a story of its own, which rivals any fiction they might have read. It began in an attempt to salvage some sort of happiness during the Nazi occupation of the Channel Islands. But, even though the war is over, each of the members are plagued by memories of terrible things.
In the midst of Guernsey's stunning landscape, Juliet carefully uncovers dark stories that haunt the coves, cottages, and cobbled streets, in an attempt to use her words to paint a portrait of the community's suffering and strength.
Based on the novel of the same name by Mary Ann Shaffer and Annie Barrows, The Guernsey Literary and Potato Peel Society is directed by Mike Newell (Harry Potter and the Goblet of Fire, Great Expectations).
The cast features an unofficial reunion of Downton Abbey cast members, such as Jessica Brown Findlay, Matthew Goode, and Penelope Wilton, along with other familiar faces from British TV, including Katherine Parkinson (Humans, The IT Crowd) and Tom Courtenay (Little Dorrit, Unforgotten).
Doors open 6.30pm for those wishing to bring food (No drinks please as we have a Licensed Bar) for those simply wishing to watcg the film show starts at 7.30pm.
Running time 2hrs 4mins. Cert 12A. 
Your table will be allocated for you but if you have any special requirements please telephone the box office direct on 01297 625699.
We can easily accommodate wheelchair users however for your comfort and safetly we do need prior notice please.
25th May - 7.30pm
 (Doors 6.30pm)
Tickets £6.00