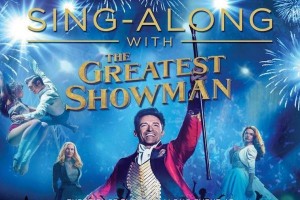 Ladies and gents, this is the moment you've waited for...The world is singing along with the most entertaining movie of the year and now you can too with this special sing-a-long screening of The Greatest Showman, the Golden Globe winner for Best Original Song. It's your time to shine – have fun, sing loud and 'Come Alive' – It's Showtime.
The Greatest Showman is a bold and original musical that celebrates the birth of show business and the sense of wonder we feel when dreams come to life. Inspired by the ambition and imagination of P.T. Barnum, The Greatest Showman tells the story of a visionary who rose from nothing to create a mesmerizing spectacle that became a worldwide sensation. The Greatest Showman is directed by exciting new filmmaker, Michael Gracey, with songs by Academy Award® winners Benj Pasek and Justin Paul ("La La Land") and starring Academy Award nominee Hugh Jackman. Jackman is joined by Zac Efron, Academy Award nominee Michelle Williams, Rebecca Ferguson and Zendaya. Doors 6.30pm if you want to bring your own food (no drinks please as we have a licensed bar).  If you simply want to watch the film the show starts at 7.30pm.   
Run time: 1hr 45mins   Rating: PG
Your table will be allocated for you but if you have any special requirements please telephone the box office direct on 01297 625699.
We can easily accommodate wheelchair users however for your comfort and safetly we do need prior notice please.
Fri 1st June - 7.30pm 
(Doors 6.30pm)
Tickets £6