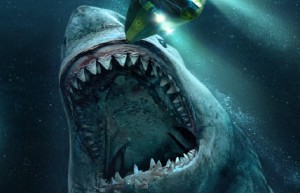 Five years ago, expert sea diver and Naval Captain Jonas Taylor encountered an unknown danger in the unexplored recesses of the Mariana Trench that forced him to abort his mission and abandon half his crew. Though the tragic incident earned him a dishonorable discharge, what ultimately cost him his career, his marriage and any semblance of honor was his unsupported and incredulous claims of what caused it - an attack on his vessel by a mammoth, 70-foot sea creature, believed to be extinct for more than a million years. But when a submersible lies sunk and disabled at the bottom of the ocean - carrying his ex-wife among the team onboard - he is the one who gets the call. Whether a shot at redemption or a suicide mission, Jonas must confront his fears and risk his own life and the lives of everyone trapped below on a single question: Could the Carcharodon Megalodon - the largest marine predator that ever existed - still be alive ... and on the hunt?
Doors 6.30pm for those wishing to bring their own food (
No drinks please as we have a Licensed Ba
r) for those simply wishing to watch the film, show starts at 7.30pm.Your table will be automatically allocated, however if you have any special requirements such as wheelchair or walking aids please do call The Gateway in advance
01297 625699
where we can work to accommodate for your comfort and safety. Please note when purchasing your ticket to select the one relevant to bringing food or not.
Friday 19th October 2018 - 7.30pm
  (Picnickers 6.30pm Film show 7.30pm)
Tickets: £6.00