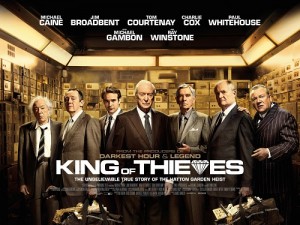 Based on a true story, a famous thief in his younger years, 77 year old widower Brian Reader pulls together a band of misfit criminals to plot an unprecedented burglary at the Hatton Garden Safe Deposit. The thieves, all in their 60s and 70s except for one, employ their old-school thieving skills to plan the heist over the Easter holiday weekend. Posing as servicemen, they enter the deposit, neutralise the alarms, and proceed to drill a hole into the wall of the safe. Two days later, they manage to escape with allegedly over £200 million worth of stolen jewels and money. When police are called to the scene and the investigation starts, the cracks between the misfit gang members begin to show as they row over how to share the goods and become increasingly distrustful of each other.
Meanwhile, the crime has become public knowledge, and a frenzy of speculations begin. As details about the crime come to light, both the British public and the media are captivated, and the investigation is followed with bated breath around the world until the criminals are eventually captured. 
Certificate:  15      Running time 1hour 48 minutes Tickets £6
Doors 6.30pm for those wishing to bring their own food ( No drinks please as we have a Licensed Bar) for those simply wishing to watch the film, show starts at 7.30pm.Your table will be automatically allocated, however if you have any special requirements such as wheelchair or walking aids please do call The Gateway in advance
01297 625699
where we can work to accommodate for your comfort and safety. Please note when purchasing your ticket to select Film Only or Picnic (if you want to bring your own food) to ensure we allocate your seating accordingly.