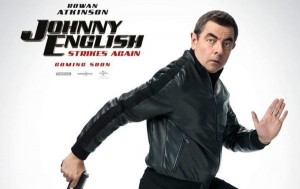 'Johnny English Strikes Again' is the third installment of the Johnny English comedy series, with Rowan Atkinson returning as the much loved accidental secret agent. The new adventure begins when a cyber-attack reveals the identity of all active undercover agents in Britain, leaving Johnny English as the Secret Service's last hope. Called out of retirement, English dives head first into action with the mission to find the mastermind hacker. As a man with few skills and analog methods, Johnny English must overcome the challenges of modern technology to make this mission a success.
Certificate: PG  Running time: 1 hour 28 minutes
Doors 6.30pm for those wishing to bring their own food ( No drinks please as we have a Licensed Bar) for those simply wishing to watch the film, show starts at 7.30pm.Your table will be automatically allocated, however if you have any special requirements such as wheelchair or walking aids please do call The Gateway in advance
01297 625699
where we can work to accommodate for your comfort and safety. Please note when purchasing ticket to select Film Only or Picnic Night (if you want to bring your own food) to ensure we allocate your seating accordingly.
Friday 30th November'18 - 7.30pm
  (Doors open 6.30pm
Tickets: £6.00