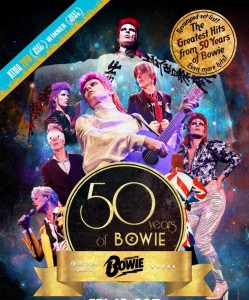 .Winners of the 'Best Bowie Tribute' and 'Best Overall Tribute in the UK' at the Agents Association of Great Britain Awards July 2018.
Absolute Bowie are proud to present a brand new stage show "50 Years of Bowie"; a musical journey through the iconic singer's ever changing personas.
David Bowie's evolving image has mesmerised fans since the early 70's and for the first time ever Absolute Bowie will take audiences on a trip that presents all his best-loved personas in all their glory. Performed by a world class five-piece band (six with added saxophone!), this brand new and unique concert features 2 long sets and more costume changes than any other show. A true extravaganza of the wonder that is Bowie's work.
All of the Starman's greatest hits are performed plus the band perform tracks from the albums David Bowie, Ziggy Stardust & The Spiders From Mars, Heroes, Aladdin Sane, Hunky Dory and Young Americans through to Heathen, Outside, Reality, Earthling and Blackstar.
Featuring the incredible vocals of John O'Neill as David Bowie, with Chris Buratti on guitar, Fabio Cashio on bass, Alex Paollilo on keyboards, Alessandro Ricardi on drums and Fiona Asbury on saxophone. The band have toured the UK and Europe for the past 10 years performing the hits of Bowie with their energetic (and theatrical!) stage show and look to take things to the highest level with this huge new show. Prepare to be taken from A to Z (Absolute Beginners to Ziggy!) with Stations to Station in between.
** Please take note this is a Limited Seating event**, doors open 7.30pm. Licensed Bar