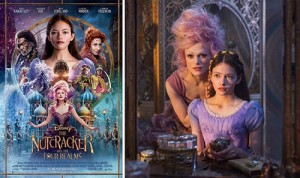 A classic story might be darker than you ever imagined… The Nutcracker and the Four Realms stars Mackenzie Foy, Keira Knightley, and Helen Mirren, and tells the tale of a young girl is transported into a magical world on a quest to find a key that will unlock a treasured box.
Clara (Mackenzie Foy) is desperately searching for the one thing that could help fill the void in her heart: a key. But it's not just any old key; she must find a special key that will unlock a treasured box holding a gift from Clara's deceased mother.
At an annual Christmas party, Drosselmeyer (Morgan Freeman), Clara's godfather, presents her with a golden thread which will lead her to the precious key. As she starts to follow the thread, it disappears, and she is magically transported into a parallel universe.
Here she befriends a soldier named Philip (Jayden Fowora-Knight), an army of mice, and the regents who rule the three Realms: Land of Snowflakes, Land of Flowers and Land of Sweets, where she meets the Sugar Plum Fairy (Keira Knightley).
To retrieve the key and restore balance in the deranged world, Clara must overcome the dangerous Fourth Realm, ruled by the evil dictator, Mother Ginger (Helen Mirran).
Directed by Lasse Hallström, this Walt Disney production comes from the studio that brought you Beauty and the Beast and The Jungle Book, and is inspired by E.T.A Hoffman's classic tale The Nutcracker. Doors open at 6.30pm for those wishing to bring their own food
(Strictly no drinks please as we have a Licensed Bar) 
and for those simply wishing to watch the film it starts at 7.30pm. Please note if you have a disability please call The Gateway on 01297 625699 to discuss your requirements so we can ensure your safety and comfort. We also have two types of tickets one for picnic evening and a seperate one for those wishing to watch film only please take care to select the one that suits you best. Rated PG, Running time 1hr 39mins.