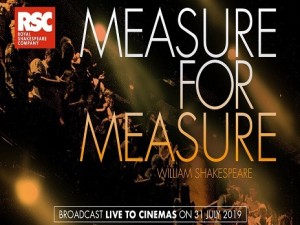 When a young novice nun is compromised by a corrupt official,
who offers to save her brother from execution in return for sex,
she has no idea where to turn for help. When she threatens to expose him,
 he tells her that no one would believe her.
Shakespeare wrote this play in the early 1600s, yet it remains astonishingly
resonant today. Artistic Director, Gregory Doran, directs this new production.
Please note we as a charitable organisation we do NOT add any extra charges for online purchasing so if you are a taxpayer you have the option to select giving a £1 donation on your ticket, every donation goes towards the maintenace and purchase of equipment for our much loved building, if purchasing more than one ticket you can select tickets without donation and one with. Thank you so much!
Doors open: 6.30pm Start time: 7pm
Running Time: TBC
Licensed Bar & Refreshments.
Licensed bar & Refreshments
BBFC Certificate: 12A