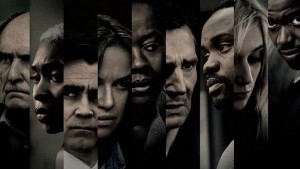 One of the most interesting voices in contemporary British cinema - Steve McQueen - directs a vital reimagining of the 80s Channel 4 TV drama Widows, in his first foray into genre filmmaking.
McQueen's crime-thriller transplants the story to modern-day Chicago and ups the ante, with a Viola Davis shining through in an ensemble cast of widows who follow their husbands' footsteps into crime after a botched job. Starring:Elizabeth Debicki, Michelle Rodriguez, Viola Davis, Cynthia Erivo, Colin Farrell, Liam Neeson. Runtime 130mins. Rated:15
Doors open at 6.30pm if you wish to bring you're own food (NO DRINKS PLEASE) as there is a Licensed Bar. For those simply wishing to watch the film then show starts at 7.30pm. You're seat will be automatically allocated dependent on which type of ticket you purchase. Row seating or Table Seating for bringing food. Please pay close attention when purchasing online to select the correct ticket. If you have any special requirements ie walking aid/wheelchair then please call The Gateway direct to discuss allocation for you're comfort and safety.