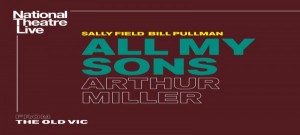 America, 1947. Despite hard choices and even harder knocks, Joe and Kate Keller are a success story.
They have built a home, raised two sons and established a thriving business.
But nothing lasts forever and their contented lives, already shadowed by the loss of their eldest boy to war, are about to shatter.
With the return of a figure from the past, long buried truths are forced to the surface and the price of their American dream is laid bare.
Jeremy Herrin (NT Live: This House, People, Places & Things) directs a cast including Jenna Coleman (Victoria), and Colin Morgan (Merlin).
All My Sons is an Old Vic co-production with Headlong. 
Please note we do NOT add any extra charges for online purchasing so if you are a taxpayer you have the option to select giving a £1 donation on your ticket, every donation goes towards the maintenace and purchase of equipment for our much loved building, if purchasing more than one ticket you can select tickets without donation and one with. Thank you so much!

Running Time: 2hrs 45mins BBFC Certificate: 15.
Licensed Bar & Refreshments available.