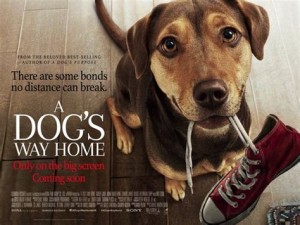 From the author who brought you 2017's beloved A Dog's Purpose, A Dog's Way Home is the heart-warming story of a dog named Bella who travels hundreds of miles to be reunited with her owner. Voiced by Bryce Dallas Howard, co-stars include Edward James Olmos, Alexandra Shipp and Ashley Judd. 
From puppyhood, Bella (Bryce Dallas Howard) is inseparable from her owner, Lucas (Jonah Hauer-King). Despite a mischievous personality, Lucas and Bella work together tirelessly so that Bella can join Lucas at his role as a VA hospital volunteer, bringing joy to everyone they meet.
Needless to say, as Bella grows from a puppy to a fully-grown adult dog, the pair develop a bond that feels as though it will never be broken. That is until one fateful day, when Bella is distracted by a critter in the window and chases it far down the street.
Discovering Bella has disappeared, Lucas does what he can to bring her home – but to no avail. Little does he know that Bella has accidentally travelled far away from home, and she faces a long, tough journey ahead of her to get back to her beloved owner. Rated PG Runtime 1hr 36mins