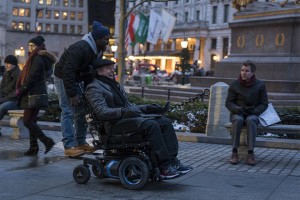 Starring, Kevin Hart, Bryan Cranston and Nicole Kidman The Upside takes a comedic look at the relationship between a wealthy man with quadriplegia and an unemployed man with a criminal record who's hired to help him.
Philip is a disabled white billionaire, who feels that life is not worth living. To help him in his day to day routine, he hires Del, an African American parolee, trying to reconnect with his estranged wife. What begins as a professional relationship develops into a friendship as Del shows his grouchy charge that life is worth living.
Rated 12A Runtime 2hr5mins.
Doors open 6.30pm for those wishing to bring their own picnic (No drinks please as we have a Licensed Bar) if you simply wish to watch the film then show starts 7.30pm. When purchasing please note there are two seperate tickets, one for picnic and one for film only, please select carefully. If you have specific seating requirements please call the Box Office 01297 625699 to ensure your safety and comfort.