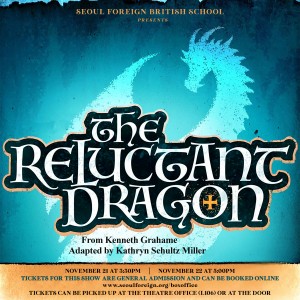 Imagine three children encountering a dragon who is most "undragony." They overcome their fears and  prejudices about dragons when they discover that this one would rather have tea  than fight and breathe fire. Their secret friendship flourishes until St. George, the famous dragon slayer, comes to town. The townspeople, seeing the opportunity for some excitement, tell St. George a variety of tall tales about the dragon's dastardly deeds. Upon hearing their exaggerations about "the beast," St. George swears that he will slay it in mortal combat. What will happen when St. George meets the dragon face to face? Will the children be able to train their dragon? This beloved story set in the medieval times and performed by the year 5 and 6 British School Key Stage 2 students will bring laughter, smiles, and keep children on the edge of their seats.
Performances:
Thursday, November 21 @ 3:30pm
Friday, November 22 @ 5:00pm
Age Recommendation: 
All ages
Ticket type:
 General admission (there are no reserved seats for this performance)
Ticket price:
 $10.00 USD (online credit card payment) / 10,000 KRW (electronic bank transfer & cash)
Payment options:
There are three ways that payment for tickets can be made:
1)
Online payment
.  We can accept online payments from a 
non-Korean
 credit card via our PayPal payment gateway.  Online payments are processed in USD and include all transaction fees in the ticket price.  No PayPal account is necessary.  Tickets paid for online will be delivered electronically via email immediately.
2)
Electronic bank transfer
.  We can accept KRW electronic bank transfers.  Payment details will be sent to you within 24-hours of making a reservation.  
3)
Cash
.  We can accept KRW cash payments at the Theatre Office (Lyso Center or the Performing Arts - L106) or in the theatre lobby prior to the performance.
Please note that if selecting to make payment via Electronic Bank Transfer or Cash, a confirmation e-mail will not be immediately generated.  You will receive payment instructions within 24-hours.  Please make payment for ticket orders within 7-days of receiving payment instructions.Theatre Office hours:
The Theatre Office will be staffed from 8am-9am, 11am-12pm, and 3pm-5pm on weekdays when school is in session.  
To ensure the performance begins on time and to minimize ticket lines in the lobby, please pick up cash reservations before the performance date if possible.
Ticket Policies:
1)
Refunds.
Ticket refunds may be made up to the week of the performance, after which there are no refunds.  All KRW refunds are distributed in cash.  All USD refunds will be credited back to the purchasers card.
2)
Exchanges
. Ticket exchanges (ie. change of seats or dates) may be made up to the week of the performance pending ticket availability.
3)
Changes or cancellations
.  Should a performance date and/or time change or be cancelled, full refunds and/or exchanges will be accepted.
4)
Late seating
.  Latecomers are admitted at the discretion of the director during an appropriate break in the action.