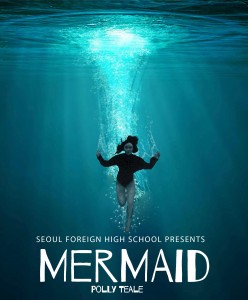 Beneath the ocean's waves there is no death or pain or separation.  Above, the modern world is beset with war, poverty and desire.  On her sixteenth birthday, a mermaid rises up to the surface, leaving her childhood behind for ever when she falls in love with a mortal prince.  She knows that she can no longer live at the bottom of the ocean - but must she destroy herself in order to be loved?
A bold reimagining of Hans Christian Andersen's tale of love, loss and longing, transported to a contemporary setting, Polly Teale's 
Mermaid
 was premiered by Shared Experience in Nottingham Playhouse on a UK tour in 2015.
Performances:
Thursday, February 6 @ 5:30pm
Friday, February 7 @ 7:00pm
Saturday, February 8 @ 4:00pm
Venue:
Lyso Center for the Performing Arts (1F) - Black Box Theatre
Age Recommendation:
Ticket type:
 General Admission
Ticket price:
 $10.00 USD (online credit card payment) / 10,000 KRW (electronic bank transfer & cash)
Payment options:
There are three ways that payment for tickets can be made:
1)
Online payment
.  We can accept online payments from any credit card with a 
non-Korean
 billing address via our PayPal payment gateway.  Online payments are processed in USD and include all transaction fees in the ticket price.  No PayPal account is necessary.  Tickets paid for online will be delivered electronically via email immediately.
2)
Electronic bank transfer
.  We can accept KRW electronic bank transfers.  Payment details will be sent to you within 24-hours of making a reservation.  
3)
Cash
.  We can accept KRW cash payments at the Theatre Office (Lyso Center or the Performing Arts - L106) or in the theatre lobby prior to the performance.
Please note that if selecting to make payment via Electronic Band Transfer or Cash, a confirmation e-mail will not be immediately generated.  You will receive payment instructions within 24-hours.  Please make payment for ticket orders within 7-days of receiving payment instructions.Theatre Office hours:
The Theatre Office will be staffed from 8am-9am and 3pm-5pm on weekdays when school is in session.  Additional hours will be posted during the week of performances.
To ensure the performance begins on time and to minimize ticket lines in the lobby, please pick up Cash reservations before the performance date if possible.
Ticket Policies:
1)
Refunds.
Ticket refunds may be made up to the week of the performance, after which there are no refunds.  All KRW refunds are distributed in cash.  All USD refunds will be credited back to the purchasers card.
2)
Exchanges
. Ticket exchanges (ie. change of seats or dates) may be made up to the week of the performance pending ticket availability.
3)
Changes or cancellations
.  Should a performance date and/or time change or be cancelled, full refunds and/or exchanges will be accepted.
4)
Late seating
.  Latecomers are admitted at the discretion of the director during an appropriate break in the action.