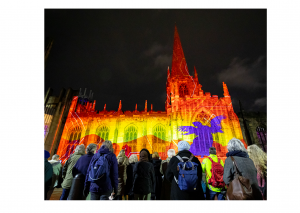 Christmas lights and festive cheer returns to Sheffield with Sheffield Cathedral Illuminated: The Manger. The show runs for 6 nights from Tuesday 29 November through to Sunday 4 December. First entry is 5.30pm each night.
Following the success of 'The Angels are Coming' in 2019 and 'The Beginning' in 2021, The Manger is an adaptation of Nativity story by the show's creator Peter Walker, who uses abstract imagery to take you on journey to the infant's crib. The whole show is accompanied by an original score inside and outside the Cathedral.
Artist Peter Walker says: "We are delighted to return to Sheffield for our third Christmas show, for many the illuminations have become a tradition for the city, bringing people of all ages and all backgrounds to the heart of the city. 'The Manger' is a beautiful production which we are sure will get people in the mood for Christmas celebrations this year."
The lightshow at Sheffield Cathedral, known as a son-et-lumiere, is rapidly becoming one of the city's Christmas traditions and the perfect way to start your seasonal celebrations with friends and family.