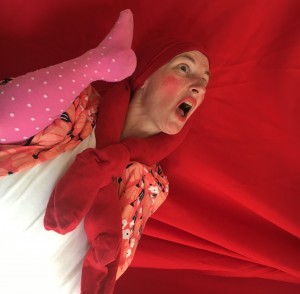 Led by Cheryl Stapleton   
Mockery, mischief and mayhem await you! During this one-day workshop you will be plunged into the surreal and strange world of Bouffon. A satirical and dark style of comedy created from the perspective of the outcasts of society. It's grotesque and ugly, yet beautiful and poignant.   
The bouffon is the inverse of the clown. Where the clown stands alone to invite the audience to laugh at his ridiculousness, the bouffon is part of a gang who laugh at the ridiculousness of the audience.   
Combining elements of burlesque, commedia dell'arte, satire, parody, farce, gallows humour, and slapstick, this is the blackest of comedy forms. This is a chance to liberate your creative thinking and practice facing life head on. Be brave, throw out the social rule book and join us for a day of outrageous playfulness!   
Participants should bring some old, baggy, garish clothes that can can be stretched, stuffed, turned and twisted. Padding and make-up will be provided!  
When:
 Saturday, 11th May 2019, 12.00 midday – 6pm.
How much:
 £35
Suitable for performers seeking development and growth, theatre makers, comedians and beginners aged 18+
About the Workshop Leader 
Cheryl Stapleton is a comedy actress, director and qualified drama teacher. She runs Learning Through Theatre, delivering workshops nationwide and staging Commedia dell'Arte masked theatre productions. She trained in physical performance with leading experts including Philippe Gaulier, Marcello Magni, John Rudlin, Antonio Fava and mask-maker Michael Chase. Her specialism is physical comedy and has taught at Circomedia, RADA, University College London, University of Gloucestershire and at schools and colleges throughout the UK.