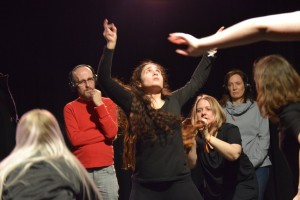 Wrong Shoes Theatre company invites you to a scratch performance of their next original immersive performance, JANUS. 
Have you ever felt alone amongst the crowds or lost in familiar surroundings? Perhaps you feel that you're searching for answers to a question you don't know how to ask? If so, Janus has the answer! 
Welcome to Janus. A loving community of free-thinkers, working in harmony to answer the eternal question of humankind's true purpose. With inspiration and guidance from our enlightened leader Mother, together we will unlock our true potential and carve out a new destiny for humankind…
Following the performance there will be an informal discussion with the cast and crew, where you will be able to ask questions about our process, the ideas surrounding JANUS and offer feedback - so, not only do you get a sneak peek at the show, but you can also influence its future development!
Location:
Volcano Theatre, 27-29 High Street, Swansea, SA1 1LG
When:
Sunday, 29thSeptember, 4pm
How much:
FREE but donations welcome!
Funded by Arts Council England.
WARNING: Flashing lights are used during this performance. Contains scenes that some viewers may find disturbing. Including scenes of a sexual nature, violence, blood and strong language - suitable for ages 16+ only.