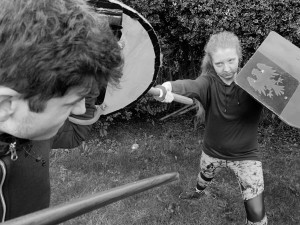 Gain an industry and EQUITY recognised qualification with our 3-day stage combat exam course in Sword and Shield, held at the Shoebox Theatre in association with The Action Emporium and the APC.
Total Beginner? Have no fear. This course will provide you with all that you need to perform a gripping armed fight safely and dramatically. Not your first rodeo? This course also caters for those who are looking to continue their training at BASIC level or who are ready to work at INTERMEDIATE or ADVANCED levels. The course will be taught by experienced APC Teacher and RSC Associate Practitioner, Tom Jordan.
This is an intensive exam course focusing on the art of fighting on stage armed with a broadsword in one hand and a shield strapped to the other - successful completion of this course and the final exam will provide you with an Equity recognised qualification in Sword and Shield combat.
When: 
Friday 17th - Sunday 19th of January 2020, 10am-5.30pm
Cost:
£135 per person
Suitable for ages 18+
For information about course content email tpjordan@live.com