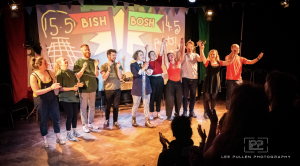 From The Delight Collective in association with The Bristol Improv Theatre!
Whose Line meets Shooting Stars meets the competitive spirit of a premier league sports match. Team Bish and Team Bosh go head to head to win glory, honour and the audience's love! 
Scenes, songs and silliness are a given in this high-octane improv extravaganza, but who will come out on top? YOU decide.
'Five stars' - Bristol 247.
When:
Friday, 28th February 2020, Bar opens at 7pm, Improv starts at 7.30pm!
How much:
£10, Students £8
Suitable for ages 16+