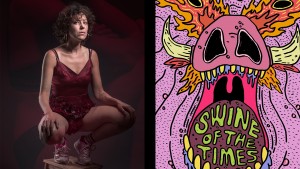 Six emerging artists test a new performance idea over three days. FUSE Festival is about supporting the beginnings of new work before it's fully developed. Watch, discuss, and be part of the creation of something brilliant.

DRY SEASON
Kat Lyons
Dry Season interweaves music and movement with original spoken word poetry and extracts from medical literature. Using the role of women in fairytales as a starting point, Kat takes the audience on a journey through a chaotic year of hormones, mental health issues and unexpected camaraderie. An honest, intimate, and funny spoken word theatre show, Dry Season uses one woman's autobiographical experience of premature ovarian failure to question societal expectations of age and gender, and explore wider issues around mental health, identity, and how we cope with loss. 
SWINE OF THE TIMES
Mighty Mammal Theatre
Meet the piggies at the troff... they sing songs, say prayers and even mime... you may recognise these swine of our times. 
Emerging character-chameleon Alice Wolff-Whitehouse presents her debut one-woman-show 'SWINE OF THE TIMES' - based on the anxieties around 21st century liberalism. An investigator into human quirks, Alice employs her skills in physical comedy, dance and song to bring to life a series of flawed and quintessentially British characters, looking at the grotesque nature of privilege in the UK through a warped and colourful lens. Nurturing a psycho-physical approach to performance, Alice explores how voice, physicality, imagination and impulse work together to create embodied character. 
When: Friday 20th March, 7.30pm (Bar opens at 7pm)
How much: £7, Students £5

Suitable for ages 16+
Warnings: Some swearing and mature themes