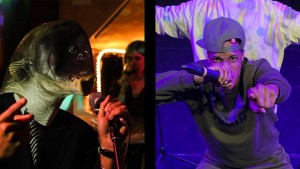 Six emerging artists test a new performance idea over three days. FUSE Festival is about supporting the beginnings of new work before it's fully developed. Watch, discuss, and be part of the creation of something brilliant.

FE(MALE)
Penultimate
A multi-disciplinary project, featuring an all-female cast, and inspired by life cycles of various hermaphroditic fish species;  Fe(Male) is an examination of femininity, depicting a journey of a female moving up in the world, at the expense of her sisters, principles and identity. At the heart of Fe(Male) is the question of what it is to be female in all its forms, examining how the broad spectrum of modern gender definitions collides with the old definitions that have dominated the population for centuries. The performance occupies a strange space between the deep oceans, and the more familiar experience of our day to day lives. However as more and more parallels are drawn, it may seem the two are not so different.
TWOSIDESSAMECOIN
Ten Minutes Late Theatre
A Brummie and a black country lad walk into a theatre… now what happens? With class and race being at the forefront of people's minds, these young men think it's time for their say. Combining both storytelling, live music and an inflatable swan they strive to outclass the prejudices set against them. TwoSidesSameCoin explores the negative behaviours associated with young working class black and white males in today's Britain. By confronting language, societal pressure and political correctness, TwoSidesSameCoin attempts to show the unseen side of British culture.
When: Saturday 21st March, 7.30pm (Bar opens at 7pm)
How much: £7, Students £5

Suitable for ages 16+
Warnings: Some swearing and mature themes