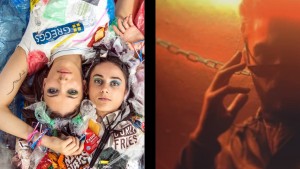 Six emerging artists test a new performance idea over three days. FUSE Festival is about supporting the beginnings of new work before it's fully developed. Watch, discuss, and be part of the creation of something brilliant.

PLASTICA GALACTICA
Plastica Galactica
"Don't go near the water" The Beach Boys once said, but Plastica Galactica looks at exactly that; the water. What's choking our marine life, what's clogging up the ocean and what's outliving all of us; plastic.
With everything on stage being plastic Emma and Bryony have collected on beach cleans, they're here to show you why life in plastic…isn't fantastic. Plastica Galactica explores plastic pollution, the effects on marine wildlife and the importance of YOU! Expect copious amounts of trash, DIY theatre and two eco girls in a plastic world.
Help us stop the plastic tide before we sleepwalk into the worst possible situation.
GURT HAUNTED
Casey Lloyd and Toby Robertshaw 
With such a dark history, Swindon is a paranormal hotspot*
(*apparently) 

The Steam Museum. The Magic Roundabout. The Millennium Clock. The Brunel Centre. Oasis. The Outlet. La Carbonara. Liquor Lounge. The Shoebox Theatre**
(**Apparently)

You can't escape it. Swindon is haunted. Gurt Haunted and Sir Francis Hailbop and his world renowned team of experts are not leaving until they put the spirits of Swindon to rest...
Or at least until they've got enough footage for their new TV series.

In a Most Haunted Live - meets - Summer Heights High, You'll be left pondering if you truly are a believer or a massive sceptic***
(***hopefully)
When: Sunday 22nd March, 7.30pm (Bar opens at 7pm)
How much: £7, Students £5

Suitable for ages 16+
Warnings: Mature themes