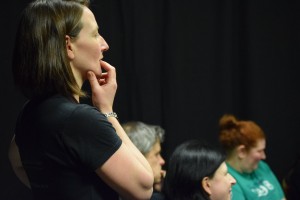 Always wanted to try acting or develop your storytelling skills? Enrolment is now open for our FREE six-week online course: Storytelling for Beginners.
We are born to be storytellers. Storytelling is a unique skill that all humans possess. Wherever a great story is told, theatre exists. But how do you tell stories so that characters leap into life and the audience are compelled to enter the imagined world you present? 
Led by Cheryl Stapleton, this fun and interactive course will help you unlock the storyteller within and teach you the techniques you need to draw in and thrill an audience. Through games, exercises, characterisation, vocal and physical training, Cheryl will help you develop confidence, expression and stage presence as a passionate actor-storyteller. 
When: 
Thursday evenings, 7pm-8.30pm, 25th of June to 30th of July 2020 (6 week course)
Cost:
 FREE – Fully Funded by Arts Council England
Suitable for ages 18+
Workshops will be delivered using ZOOM and students will need access to a camera and microphone using a laptop, phone or tablet. Registration for our online workshops and courses will close 24hrs before they are due to start. This is so we can send a secure ZOOM link and instructions to each student prior to the event.