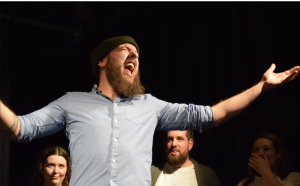 Hosted by Imogen Palmer of The Delight Collective and The Bristol Improv Theatre. The Online Improv Jam is your chance to get on the virtual stage and have a go at the make-em-ups yourself! All abilities welcome in this friendly, inclusive improv night.
Log in at 7pm for a group warm up and a chance to meet the other improvisers if you want to perform!  
Performing not your thing? Log in at 7.30pm and watch from the comfort of your sofa with a stiff drink! 
When: 
Tuesday 29th September 2020, 7.00.pm (Performers), 7.30pm (Audience)
How much: 
FREE! Funded by Arts Council England.
Suitable for ages 18+
The Online Improv Jam will be delivered using ZOOM and participants will need access to a camera and microphone using a laptop, phone or tablet. Registration for our online performances and workshops will close 24hrs before they are due to start. This is so we can send a secure ZOOM link and instructions to everyone prior to the event.