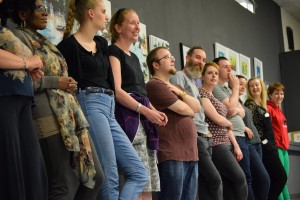 It's never too late to tread the boards! Our Beginners Acting Courses for Adults offer an introduction to acting in a friendly and supportive atmosphere. Ideal for those with little or no acting experience, classes provide the chance to explore acting technique in a playful, accessible and practical way. Whether you are an aspiring performer; wish to revitalise your creativity; or simply want to try something new and build self-confidence, you will find our classes fun and rewarding. 
Our next beginners course starts on Tuesday 2nd of February with ​Page to Stage: Monologues! In this course we introduce you to text analysis and performance through the exploration of monologues, applying techniques from Stanislavsky's system of actor training. You will also explore audition technique, working on text, character and voice to bring the role to life and deliver highly engaging monologues for audition. This course will help students to tackle common monologue challenges head on, from selection to performance!
When: Tuesday evenings, 7.30pm-9.30pm (teaching time approx. 90 mins), 2nd of February to 23rd of March 2021 (8 week course)
Cost: £80

Suitable for ages 18+
​Due to COVID-19 safety guidelines we have limited our class numbers to 10 students. In the event that in-studio classes are no longer possible due to local restrictions, these classes will run online and will transfer back to an in-studio setting, if safe to do so.