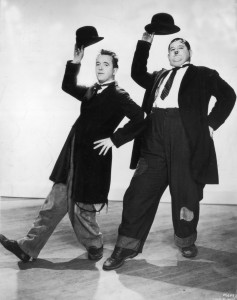 Laurel and Hardy, Morecambe and Wise, Mayall and Edmondson, Reeves and Mortimer... Comic double acts have been appearing on our screens and stages for over a century, but what makes them so timelessly funny?
We will trace the roots of the double act back through sitcom, stage and the silent screen playing in comic duos such as the Master and Servant; the Charlatan and Stooge and the Dumb and Dumber Clowns. This workshop is entirely practical and focused on the physical tomfoolery. We will take you through the tricks of the comic greats:
- Comic techniques e.g. slapstick, parody, absurdity, incongruity
- Comic devices, rhythms, pacing and timing
- Improvisation
- 'Grummelot' (gibberish nonsense) communication
- Physical sequences including eccentric dance
- Audience interaction
This is an ideal workshop for anyone wanting to develop confidence in comedy performance, gain ideas for devising, find simple ways into comic characterisation or simply to have fun! Silly hats and comic props will be in abundance - feel free to bring your own random objects with comic potential to add to the mix! Come on your own or bring a comic partner.
When:
Saturday 7th of April 2018, 10am-4pm
Cost:
£35 per person
Suitable for ages 18+
About the Course Leader
Cheryl Stapleton is a comedy actress, director and qualified drama teacher. She runs Learning Through Theatre, delivering workshops nationwide and staging Commedia dell'Arte masked theatre productions. She trained in physical performance with leading experts including Philippe Gaulier, Marcello Magni, John Rudlin, Antonio Fava and mask-maker Michael Chase. Her specialism is physical comedy and has taught at Circomedia, RADA, University College London, University of Gloucestershire and at schools and colleges throughout the UK.