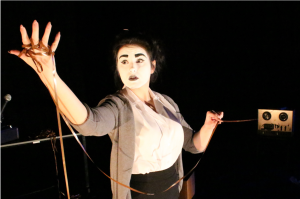 In a small attic, packed in hundreds of cereal boxes, lies the life's work of Delia Derbyshire - the unsung genius behind the Doctor Who theme tune and trailblazer of electronic music. Join Noctium as they explore this fascinating tale of the mother of modern music. Using strange sounds and weird wobbulations, Noctium brings you a sonic experience your ears won't believe. Hymns for Robots mixes Noctium's unique heightened performance style with analogue and digital music to bring you an extraordinary life that was almost forgotten.

***** "Constantly engaging and charming. Hymns for Robots is something that shouldn't be missed." - Broadway Baby
**** "Quirky, offbeat and stylish" - Fringe Guru

When: Friday 9th - Saturday 10th November, 7.30pm
Cost: £10

Suitable for ages 14+. Contains strong language and references to sex.