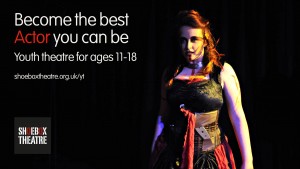 On Saturday the 25th of January the Shoebox is opening its doors and offering a FREE taster workshop for students ages 11-14. This session will give students the opportunity to experience our workshops, learn about the Shoebox and meet our creative team!  
When: Saturday 25th January 2020, 11.45pm-1.15pm
ACTING FOR AGES 11-14

These classes are for young people with a keen interest in Acting. Students will be introduced to a range of drama techniques and theatrical forms including physical theatre, comedy, devising, improvisation and working with text. These classes are challenging, educational and enjoyable - with a focus on building confidence and exploring acting technique in a fun and accessible way. 

Weekly classes run on Saturdays from 11.45am-1.15pm, with our next term running from 25th January to 28th March 2020.
Cost: £75 per 10 week term (£7.50 per session to be paid per term in advance).