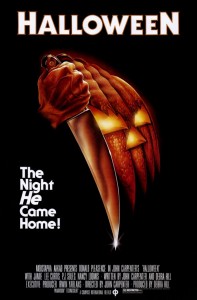 For our second evening showing down at Scorrier House, we are showing the original, Halloween (1978)
If you don't know what the film is about;
On a cold Halloween night in 1963, six year old Michael Myers brutally murdered his 17-year-old sister, Judith. He was sentenced and locked away for 15 years. But on October 30, 1978, while being transferred for a court date, a 21-year-old Michael Myers steals a car and escapes Smith's Grove. He returns to his quiet hometown of Haddonfield, Illinois, where he looks for his next victims.
We have a family showing prior to this, so the film start time will be 8.30PM. Please do not arrive prior to 7PM as cars will be leaving site. 
There will be local Food and Drink suppliers on site serving throughout. 
Please note this is a 15 Rated film, so if we deem any attendees to be under 15 we do reserve the right to refuse entry. 
DATE - Wednesday 28th OctoberGATES OPEN - 7.15PM
FILM STARTS - 8.30PMTICKETS - £20 PER CAR