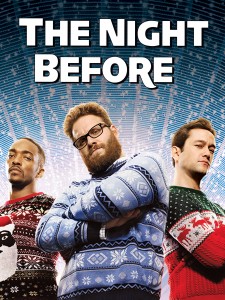 Funny from start to finish!
'For the last 10 years, lifelong buddies Ethan (Joseph Gordon-Levitt), Isaac (Seth Rogen) and Chris (Anthony Mackie) have gathered on Christmas Eve to celebrate the holidays with a bang. As Isaac prepares to become a first-time father, the friends realize that their annual tradition is coming to a sad end. To make it as memorable as possible, they plan a night of debauchery and hilarity by searching for the Nutcracka Ball, the Holy Grail of Christmas parties in New York.'
There will be local Food and Drink Suppliers along with our Craft tent open from 7PM. More information on who will be joining us at all our events is available on our Facebook page.
PLEASE DO NOT ARRIVE BEFORE 7PM AS WE HAVE A FILM ON BEFORE.
DATE - FRIDAY 10TH DECEMBER
FILM START TIME - 8.30PM
TICKETS - £20 A CAR
TRURO CATTLE MARKET