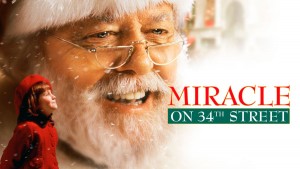 'Six-year-old Susan Walker (Mara Wilson) is skeptical of the Christmas myth surrounding Santa Claus, a trait she perhaps learned from her mother, Dorey (Elizabeth Perkins). When tasked with hiring the Santa who will pose with kids at Macy's, Dorey enlists a man with the curious name of Kris Kringle (Richard Attenborough) who claims to be Santa himself. His assertions are met with scoffs and threats of institutionalization, but a young lawyer, along with Susan and Dorey, comes to his defense.'
There will be local Food and Drink Suppliers along with our Craft tent open from 7PM. More information on who will be joining us at all our events is available on our Facebook page.
PLEASE DO NOT ARRIVE BEFORE 7PM AS WE HAVE A FILM ON BEFORE.
DATE - SUNDAY 19TH DECEMBER
FILM START TIME - 8.30PM
TICKETS - £20 A CAR
TRURO CATTLE MARKET