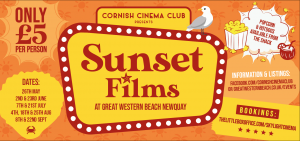 We are so excited to be launching our 2022 schedule of Cinema at Great Western Beach!
Our first film is one that took the cinemas by storm; DUNE!
Paul Atreides arrives on Arrakis after his father accepts the stewardship of the dangerous planet. However, chaos ensues after a betrayal as forces clash to control melange, a precious resource.
Great Western Beach offers the perfect setting for an outdoor movie night; soft sands, sheltering seawall,  stunning backdrop, and facilities including toilets and a licenced beach bar, selling Hot Dogs & Popcorn in addition to beers and wines.  The beach complex also offers the Great Western Beach Café for a pre-movie meal for those looking to make a full evening of it.  For more information on the venue, please search @greatwesternbeach Instagram or Facebook; 
https://www.greatwesternbeach.co.uk/events/
Please note that the venue does not offer parking facilities. Public car parks are available nearby.  Easy access on foot is available from Cliff Road. 
The venue cannot allow your own alcohol to be brought onto the beach.  Bag checks will be requested upon entrance. You will need to bring your own form of seating if you wish to not sit on the sand.
DATE - Thursday 26th MayVENUE - Great Western Beach, Newquay
FILM STARTS - 21.30 (light dependent)
GATES OPEN - 6.30PM (but please feel free to come down prior to this to eat and drink)
PRICE - £5 Per Person