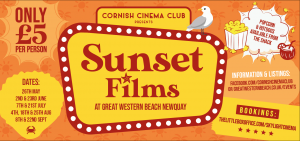 Our next film is one that 93% of people who watched it would recommend it and which grossed nearly £2BN at the theaters; Spider Man - No Way Home
Peter Parker seeks Doctor Strange's help to make people forget about Spiderman's identity. However, when the spell he casts gets corrupted, several unwanted guests enter their universe.
Great Western Beach offers the perfect setting for an outdoor movie night; soft sands, sheltering seawall,  stunning backdrop, and facilities including toilets and a licenced beach bar, selling Hot Dogs & Popcorn in addition to beers and wines.  The beach complex also offers the Great Western Beach Café for a pre-movie meal for those looking to make a full evening of it.  For more information on the venue, please search @greatwesternbeach Instagram or Facebook; 
https://www.greatwesternbeach.co.uk/events/
Please note that the venue does not offer parking facilities. Public car parks are available nearby.  Easy access on foot is available from Cliff Road. 
The venue cannot allow your own alcohol to be brought onto the beach.  Bag checks will be requested upon entrance. You will need to bring your own form of seating if you wish to not sit on the sand.
DATE - Thursday 21st JulyVENUE - Great Western Beach, Newquay
FILM STARTS - 21.30 (light dependent)
GATES OPEN - 6.30PM (but please feel free to come down prior to this to eat and drink)
PRICE - £5 Per Person