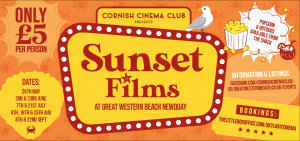 Our next film is a Disney Lvie Action remake that is brilliant; Cruella
Estella is a young and clever grifter who's determined to make a name for herself in the fashion world. She soon meets a pair of thieves who appreciate her appetite for mischief, and together they build a life for themselves on the streets of London. However, when Estella befriends fashion legend Baroness von Hellman, she embraces her wicked side to become the raucous and revenge-bent Cruella.
Great Western Beach offers the perfect setting for an outdoor movie night; soft sands, sheltering seawall,  stunning backdrop, and facilities including toilets and a licenced beach bar, selling Hot Dogs & Popcorn in addition to beers and wines.  The beach complex also offers the Great Western Beach Café for a pre-movie meal for those looking to make a full evening of it.  For more information on the venue, please search @greatwesternbeach Instagram or Facebook; 
https://www.greatwesternbeach.co.uk/events/
Please note that the venue does not offer parking facilities. Public car parks are available nearby.  Easy access on foot is available from Cliff Road. 
The venue cannot allow your own alcohol to be brought onto the beach.  Bag checks will be requested upon entrance. You will need to bring your own form of seating if you wish to not sit on the sand.
DATE - Thursday 25th AugustVENUE - Great Western Beach, Newquay
FILM STARTS - 20.30 (light dependent)
GATES OPEN - 6.30PM (but please feel free to come down prior to this to eat and drink)
PRICE - £5 Per Person