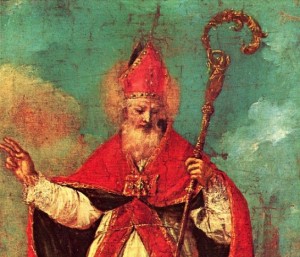 The main work in our Christmas Musical Evening is Saint Nicolas by Britten. There will also be Christmas music by Holst and Rutter and an opportunity for the audience to join in with some well known carols.
Saint Nicolas was Benjamin Britten's first important work to include children's voices and we will be joined for this performance by the Taplow Girls' Choir. St. Nicolas, Bishop of Myra in the 4th Century is better known to us as Santa Claus and this work tells of his life in nine sections from the waltz setting of his birth to the storm at sea during his journey to Palestine. To sing the important role of the Saint we welcome back the tenor Greg Tassell who is featuring widely in opera and oratorio performances both here and abroad.
Christmas Day by Holst displays the composer's skill at interweaving portions of various well-known Christmas songs together, whilst the two beautiful and memorable carols by John Rutter and Bob Chilcott are welcome recent additions to the Christmas choral repertory.
Britten St Nicolas
Holst:
Christmas Day
Gabrieli
Hodie Christus Natus est
Scheidt
In dulci jubilo
Rutter
All the Bells in Paradise
Items by Taplow Girls' Choir
Soloist: Greg Tassell (tenor)
Taplow Girls' Choir
Saturday 13 December 2014 - 19:30
Tickets
£15 and £12.50 adult, £10 student
School Hall,
Eton College,
High Street, Eton, SL4 6DW
Booking note: some performers will be
(Back to
Slough Philharmonic website
)
located in the rear half of the balcony.