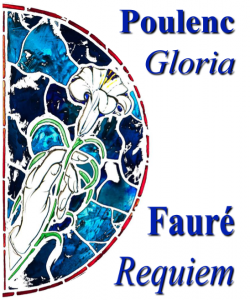 The overture to this Sunday afternoon choral concert is the gentle and wistful Pavane for orchestra, a fitting prelude to Fauré's Requiem, in which the overwhelming impression is one of peace and serenity.
From its magnificently ceremonial opening, Poulenc's Gloria is a work that embraces a variety of moods from meditative and profound to moments of gaiety and humour.
The Five Mystical Songs for baritone, chorus and orchestra are set to poems by George Herbert. In these lovely settings Vaughan Williams shows a simple yet profound response to each of the poems, culminating in the celebratory Antiphon.
Louise Turner has sung as soloist with opera companies in the UK and in America and is a regular oratorio and concert soloist with choirs and orchestras across the country. Alex Ashworth has sung with Welsh National Opera and at Glyndebourne and in oratorios at the Concertgebouw in Amsterdam, in the Proms, at The Royal Festival Hall and many other venues.
Programme
Fauré
Pavane
Fauré Requiem
Poulenc Gloria
Vaughan Williams
Five Mystical Songs
Slough Philharmonic Orchestra and Chorus
Soloists: Louise Turner ( soprano )
Alex Ashworth ( baritone )
Sunday 10th May 2015 - 15:00
Tickets
£15 and £12.50 adult, £10 student
School Hall, Eton College, High Street, Eton, SL4 6DW
(Back to
Slough Philharmonic website
)