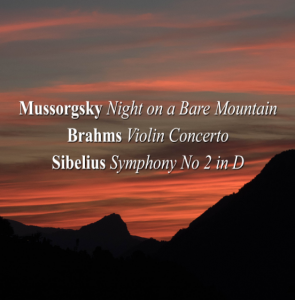 Saturday 14 November 2015 7.30 pm
The Centre, Slough
Mussorgsky
Night on a Bare Mountain
Brahms Violin Concerto
Sibelius Symphony No 2 in D
Soloist: Bartosz Woroch ( violin )
We open our new season of concerts with Mussorgsky's spine-tingling portrait of a witches' Sabbath, which is based on old Russian folk tales. After a riotous night, dawn and church bells disperse the frenzied participants.
To play one of the most lyrical of all violin concertos we welcome back the Polish violinist Bartosz Woroch who gave a wonderful performance of the Elgar concerto in 2012. Brahms' warm and expansive first movement leads to a rapt slow movement which starts with a particularly beautiful oboe solo. The concerto concludes with a vigorous Hungarian-flavoured dance.
To celebrate 150 years since the birth of Sibelius we conclude our concert with his magnificent Second Symphony. It begins in the peace of the Finnish forests and grows from the very first violin entry and its sense of exploration continues throughout its four movements before building inexorably to the final, thrilling brass theme.
​Tickets
£15 and £12.50, £10 under 16s/students
The Centre, Farnham Road, Slough SL1 4UT
(Back to
Slough Philharmonic website
)