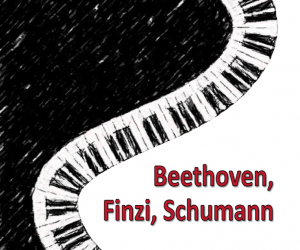 Saturday 11 March 2017 7.30 pm
Centenary Hall, Caldicott
MacCunn
The Land of the Mountain
and the Flood
Beethoven Piano Concerto No 4
Finzi Eclogue for Piano and Strings
Schumann Symphony No 4
Soloist: Sam Armstrong (piano)
MacCunn's Overture brings a strong Scottish flavor to the opening of this orchestral concert, the signature tune for 'Sutherland's Law' in the 70's. Stern, wild, yet lyrical it paints a picture of the sprawling Scottish landscape, a remarkable achievement for an eighteen-year-old.
We welcome back the superb pianist Sam Armstrong to perform Beethoven's most daringly personal concerto, remarkable for its outer tenderness and underlying intensity. The thoughtful dialogue between the piano and the orchestra in the slow movement is followed by an exhilarating finale, culminating in a jubilant coda.
Finzi's Eclogue, or 'pastoral dialogue' is a short work of exquisite beauty and passion, full of sumptuous and calming melodies, a gentle reflection of the English countryside.
Schumann's Fourth Symphony is an intense and dramatic work, revolutionary in structure, and one of the exhilarating works in the Romantic repertoire.
Tickets
£15, £10 under 16s/students
Centenary Hall, Caldicott, Crown Lane, Farnham Royal, Slough SL2 3SL
(Back to
Slough Philharmonic website
)