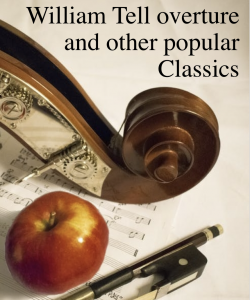 Sunday 20 May 2018
Caldicott, Farnham Royal 3:30pm
Afternoon concert with an extended interval for summer drinks (weather permitting).
Slough Philharmonic Orchestra
Conductor David Wilson
Programme includes:
Holst – Sullivan – Rossini – Sibelius - Elgar
Sullivan         The Yeoman of the Guard  Overture
Sibelius          Finlandia
J Strauss        Champagne Polka
Rossini           William Tell Overture
  - interval -
Elgar               Serenade for Strings (2nd movement)
Holst               Suite No 1 in E♭
Elgar               Imperial March
Coates            Summer Days Suite
 
Short, popular orchestral items make up the programme for this Sunday afternoon concert, starting with Holst's tuneful three movement Suite in E flat. The score of Sullivan's Yeomen of the Guard is generally considered to be the finest of all his operettas, including the Overture which has a grandeur befitting the title. The famous Overture to William Tell is a complete symphonic poem in miniature; its four parts carrying the listener from dawn in the mountains, through a storm and concluding with the well-known march. Finlandia, part of a suite of music Sibelius wrote for a pageant, is a concentrated burst of patriotic feeling. Elgar's Imperial March, written to celebrate Queen Victoria's Diamond Jubilee in 1897, created a great impression amongst the public and made his name widely known in London. Brilliantly scored, its overall structure marked a new beginning for the British ceremonial march.
Tickets 
£15     £10 under 16s/students     £19 Family ticket (one adult and one child) 
Centenary Hall, Caldicott, Crown Lane, Farnham Royal, Slough  SL2 3SL
(Back to 
Slough Philharmonic website
)