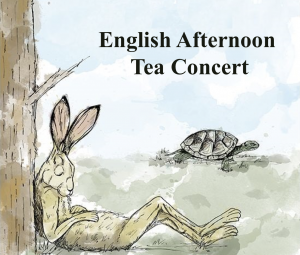 Sunday 24 June
St Andrew's Church, Cippenham, 4:00 pm
Programme will include choral and solo music composed and arranged by English composers -
Bob Chilcott -
Aesop's Fables
John Rutter - 
Feel the Spirit
Plus pieces for String Quartet
Tickets £10, £5 under 16s / students
Slough Philharmonic Chorus - Sheila Cornall (Conductor)
Mezzo Soprano Soloist - Sarah Vandevelde Graham
John Chantrey (Piano)
Marilyn Vanryne (Violin) and members of Sough Philharmonic Orchestra as string quartet.
Bob Chilcott's engaging choral work sets five of Aesop's famous fables. His masterful musical setting brings each story to life, from the groaning mountain to the dozing tortoise at the end of the race, resulting in a characterful portrayal of these moral tales that is sure to appeal to audiences of all ages. 
Feel the Spirit
 is a cycle of seven familiar spirituals expertly arranged by John Rutter for choir. The vivid and expressive arrangements showcase the rich heritage of the spiritual. The work brings new life to such well-loved titles as 
Steal away, I got a robe,
and
 When the saints go marching in. 
Slough Phil Chorus is joined by Mezzo Soprano - Sarah Vandevelde Graham
Between the two works, there will be an interlude of short pieces for string quartet, led by Marilyn Vanryne.
Tea and cake will be available after the concert which will last about an hour.