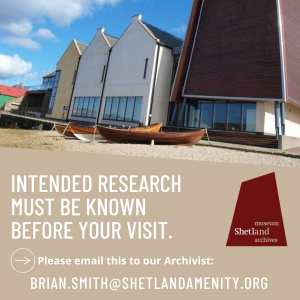 The Archives is now restricted to five people at a time and must be booked in advance.  Bookings are available Tuesdays-Friday at either 10:15am or 2:15pm.

This ticket gives you access to the Archives only. If you would like to visit the Museum galleries, you can do so without booking a ticket.

In order to maximise your booked slot, you must request any items you wish to view in advance, preferably by emailing Brian.Smith@shetlandamenity.org.

*Please ensure you check and understand the official guidance for COVID 19 travel restrictions prior to booking.  

Please view the Scottish Government's guidance on Scottish travel
The following terms and conditions apply:
- One ticket entitles entry for one person only.
- You must provide contact details with your booking to enable track and trace if required.
- If you or anyone in your household have experienced Covid-19 symptoms in the last 7 days or been in contact with anyone with symptoms you must not visit the Archives.
- Face Coverings must be worn (except where exemptions apply).
- There are specific
regulations in place for the Archives Searchroom
– please review these before your visit.
If you have any specific accessibility requirements or require additional assistance contact us in advance here.

Please arrive on or shortly ahead of time. 
Please see our website for more details on what to expect when you visit.