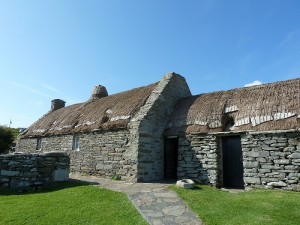 Head down to the delightful setting of Dunrossness and step back in time as you enter a traditional 19th century thatched crofthouse.

The property is presented in the style of how it would have looked in the 1870s. Smell the peat fire, discover the box beds and try to set the traditional Shetland mouse trap. The crofthouse also has a lovely garden which can be explored in your own time.

Hear our knowledgeable custodians tell stories about how it would have been to live in a typical crofthouse and what families would have done to make a living from the land.

This ticket entitles entry into the crofthouse interior for 1 hour. 

Open Monday 1st May - Sunday 1st October 2023.

Adult and child tickets available.

Booking is advised to avoid disapointment. 

Accessibility: Entry to the crofthouse site is down a narrow, steep sloped track with three steps at the start of the path. The doorways into the interior of the buildings are also narrow, the door-lintels are low and the floor uneven.

Are you taking the bus to visit us? If you are, we'd recommend you book our 12pm slot as the service 7 feeder bus, which links to the main service 6 Lerwick- Sumburgh route, will drop off at the bus stop a few seconds walk from the site, at 11:45am. There is then a feeder bus passing the site at 1:40 pm to take you back to Lerwick. For more information on the bus time-table, click here.